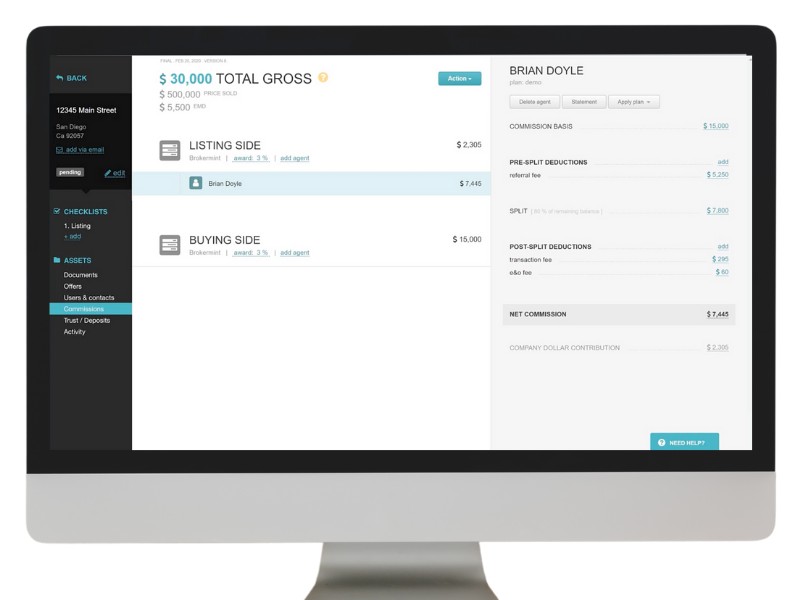 Reviewers Agree: Brokermint is the Best Real Estate Back Office Solution
Close faster. Disburse faster. Reduce errors.
Use some or all of our modules to accelerate your business.
TRANSACTION MANAGEMENT
COMMISSION AUTOMATION
ACCOUNTING / NEXT-DAY ACH
AGENT MANAGEMENT
REPORTING AND ANALYTICS
CONNECT TO CRM AND MLS
Today's back office is automated. See why 1,500+ brokerages have already automated their back offices with Brokermint.


Transaction Management
Brokermint eSignature
Checklists
Calendars and notifications
Offer management
Secure document storage
Compliance audit trail


Commission Automation
Get commissions right every time
Use multiple commission plans
Include splits, fees, sliding scales
Supports teams
No manual data entry


Accounting
Reimagined for real estate
Next-day ACH payments
Agent billing
General ledger
Transaction and agent ledgers
Integrates with QuickBooks


Agent Management
Agent onboarding
Agent goals and production
Store compliance documentation
Agent dashboard


Reporting and Analytics
Use our pre-built reports
Create your own custom reports
Agent and brokerage production
Lead source ROI

Integrations
Integrates with 50+ platforms
CRM, MLS, QuickBooks
Realogy Dash
Open API
400,000+
Transactions/year